The University has purchased two new teaching tools for academic staff to use – Poll Everywhere, and Padlet. The free to use versions of these tools have been extremely popular amongst staff and students and the new institutional versions mean staff can benefit from upgraded features of each.
Both tools are designed to be easy to use and generally people can learn to use them quite quickly.
What are Poll Everywhere and Padlet?
Poll Everywhere lets your audience interact and respond to questions using their mobile phones or other devices. You may have previously used TurningPoint clickers to do similar.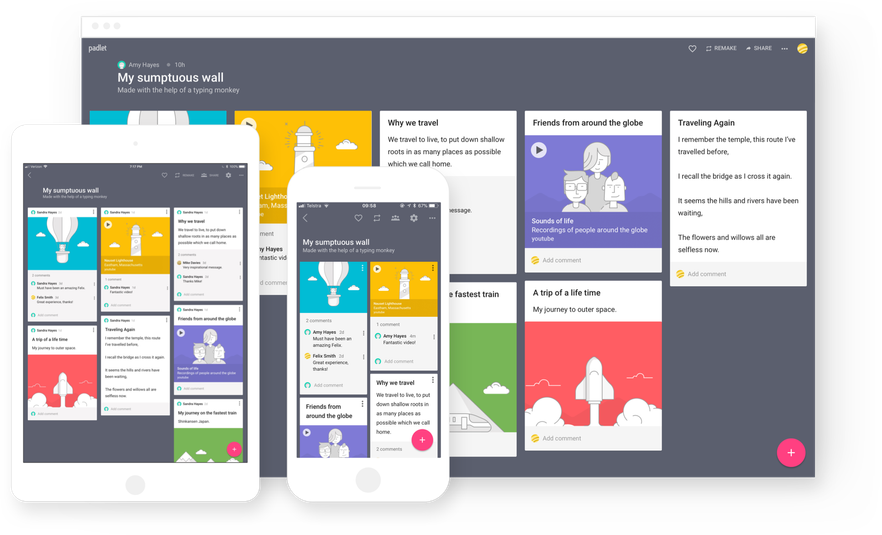 Padlet is a digital notice board – think of it like a collection of digital post it notes.
What are the benefits for students?
Both tools mean your students can engage with activities or questions in class using almost any device connected to the internet, and both have similar benefits for students:
They can use their own device.
They don't need to download a specific app or setup an account to respond.
They can respond anonymously – this can reduce social anxiety for those students who might not normally raise their voice in class.
What are the benefits for staff?
The benefits for your teaching are centered around student voice and reducing anxiety
Students are using their mobile devices for educational engagement.
You can engage students in activities synchronously and asynchronously.
It's a good way to capture the student voice digitally.
You can test student's knowledge and get a snapshot of cohort understanding.
Students can see results on screen if you want, this gives them the chance to reflect on their own understanding.
Results are often more authentic as students can't be swayed by seeing how others have responded.
You can generate 'engagement' reports using Poll Everywhere to demonstrate levels of interactive classroom engagement.
What might go wrong?
Wifi
Most problems arise when there is an issue with wifi as it means students can't respond to either system. There's no way around this other than to not rely heavily on these tools as the crux of your session and make sure your students know that the technology can and will go wrong.
Students with no device
We can't assume every student will have a device to respond with, you can mitigate this by asking students to discuss and answer in pairs or giving them advance notice of using these tools so they can borrow a device from the library.
How can I get an account?
To request an account please follow this link and fill out the required details. The TEL team will then provide you with an account using your university email address.
To access the University of Derby Padlet account, navigate to the following link: https://derbyuni.padlet.org and click 'Log in with Microsoft' and use your University credentials.
Where can I find help?
Help guides for both tools are available on our Digital Handbook:
I'd recommend watching this 30 minute video on Getting Started with Poll Everywhere as a good starting point:
The TEL team will be also running staff development sessions in October.